Posted by Nate Scaccia on Tuesday, March 1, 2011
Under: WWE
I will be doing these types of articles from time to time. They will discuss one superstar who is on my mind. These are discussions because I am completely open to your views on the superstar.
I will tell you my opinions about him/her and I would like to see your opinions about them in the comment section.
This article will discuss "The Chosen One" Drew McIntyre.
Drew McIntyre is Vince McMahon's "Chosen One." Drew possesses a great talent that I think goes underrated. Drew has the charisma and talent to be the next Randy Orton.
He is young and I think he will be a World Champion within a year. I have had an interest in Drew since his return to wrestling in 2009.
Drew has been an Intercontinental Champion and a short-lived Unified Tag Team Champion with Cody Rhodes.
This Sunday, Drew will compete in the Elimination Chamber. I do not think Drew is ready to headline WrestleMania yet, but in the next few years I think he will be there.
Drew McIntyre has the look and entrance that a big-time star should have. When his theme music hits, it makes you take notice.
His finisher, the "Future Shock," is a decent move. I would like if he could develop a new quick-hitting move that he could use at any moment.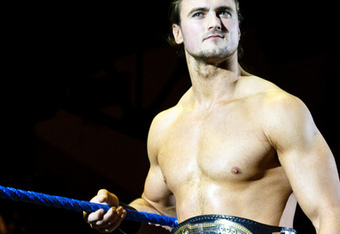 Drew's current angle involving Kelly Kelly has some potential to be a good one. It has been rumored that Kelly may turn heel, how will that affect the angle?
Will Drew feud with Edge or someone else? WWE has a chance to make this angle the best of Drew and Kelly's careers.
Drew McIntyre has had some good matches since his return. Maybe he and Christian could give us another few matches.
I think Drew vs. Daniel Bryan would also draw in interest from the WWE Universe. That may be the way to go with Drew's current angle. Move Kelly and Drew to Raw to feud with Daniel and Gail.
I'm just spitballing ideas here but it seems like that would be an interesting idea. Eventually, Drew could take the U.S. Title away from Daniel and then move on or continue for a few months longer.
Drew McIntyre has promise in WWE. I hope WWE uses him to his full potential and pushes him in the right direction. I think Drew has good wrestling talent and he should be a World Champion within a year or two.
Well that concludes my first discussion article. I know it bounced around a little, but that is the idea. I want it to be like a conversation between you and me.
Leave your comments about Drew, my ideas, or this type of article. It's your turn to do the discussion.
In : WWE
Tags:
wwe drewmcintyre