Posted by Nate Scaccia on Wednesday, March 2, 2011
Under: NFL
Well fellow Viking fans, trouble strikes again.
It was announced earlier this week that Vikings wide receiver Sidney Rice will enter the free agency market. Any team would be lucky to get Rice, as he is a great receiver. Rice's greatest season was in 2009 when he racked up over 1,300 yards and eight touchdowns.
During the offseason following that year, Rice underwent hip surgery, and it was because of that surgery that his numbers lacked in 2010. Still, he recorded just under 300 yards receiving and two touchdowns.
What Does His Free Agency Mean for the Vikings?
Well, it depends what Rice decides to do. Sidney can still re-sign with the Vikings. I hope this is the option he chooses, because the Vikings can not afford to lose a key player like Rice.
Without Rice, the Vikings' current receiving core is Percy Harvin, Bernard Berrian, and Greg Camarillo. Rice is needed on the team, because, without him, the quarterback will suffer—whoever it is. The receiving lineup is not nearly as intimidating without Rice as it is with him.
If Not Minnesota Then Where?
There are many teams that could use a receiver of Rice's caliber. The following teams could go after Rice: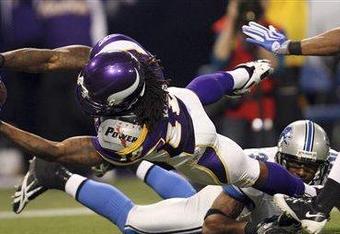 AFC:
Buffalo Bills
Cleveland Browns
Kansas City
Miami Dolphins
Oakland Raiders
Tennessee Titans
NFC:
Carolina Panthers
Chicago Bears
Dallas Cowboys
New Orleans Saints
St.Louis Rams
San Francisco 49ers
Seattle Seahawks
Tampa Bay Buccaneers
Where will Sidney Rice End Up?

Carolina

Washington

San Francisco

Cleveland

Seattle

Minnesota

Other
Washington Redskins
Where will Sidney Rice End Up?
None of these teams have more than one good receiver, and none of them have any depth at the position. I could really see three teams trying to land Sidney Rice: Carolina, Seattle, and Washington. These three teams all ran into problems with their respective receiving cores.
Sidney Rice has not said that he is not interested in returning to the Vikings. He has just decided to test the free agency market. Whether or not Sidney returns will be on the Vikings' shoulders more than on Sidney's.

Thanks for reading.
In : NFL
Tags:
minnesotavikings sidney rice